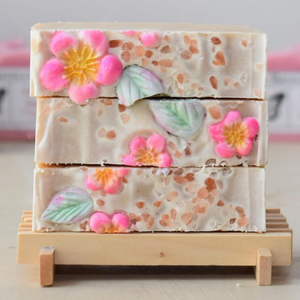 Rose-Blossom
Desert Rose with Red Brazilian Clay - Lavender Soap
Regular price
$8.50
$0.00
Unit price
per
Each bar is made with 100% pure Essential Oils.

Ingredients: Made with Saponified 100% Olive Oil, Coconut Oil, Castor Oil, Red Brazilian Clay and Lavender Essential Oil.

-Red Brazilian Clay, this one is highly rich in iron. It will soften your skin almost instantly and also help in soothing irritated skin as well as providing a gentle exfoliation. Its soothing properties make it an obvious choice for a summer skin care routine.

-Every bar of soap is handcrafted to be gentle, extra moisturizing and cleansing to the skin. I know you will love the nice creamy and bubbly lather of my handcrafted soaps and the way they all make your skin feel.


-Each Batch of soap is handmade in small batches in my farmhouse in Texas. All merchandise at Farmacy Revolution is carefully curated from other small business in the USA that are ecologically aware.


-Cut at approximately 5 oz. All bars are cut by hand and sizes vary from bar to bar.

-Soaps are made in small batches and will vary in color from one batch to the next.

*In order to take the best possible care to extend the life of your handmade soap you can use a draining soap dish that will keep the soap dry underneath.
---